Salads are healthy
It's that time of year again. Time to start packing some lunches. Are your kids getting tired of sandwiches? Maybe it's time to switch things up and try something new. How about a packing a nice healthy and delicious salads for lunch? It's good to get kids started early with a nice variety of veggies in their diet. Try these tasty salads for packed lunches.
Use your leftovers and save money
These tasty salads are also a really good way to use some of your meal leftovers. I love finding creative ways to use my leftovers. Approximately 30-40 percent of the American food supply is wasted.1 We should all do our part to use our leftovers. Teaching the next generation not to waste food is a huge part of that. Teach your kids to eat the leftover food! Eating your leftovers is also a huge cost savings, it's estimated that on average, each American household wastes over $1800 of food each year!2 Using up your leftover food leads to having more money for other things and a happier less stressful life.3 Here are 4 salads my family enjoys:
4 Tasty Salads for packed Lunches
#1 Caesar Salads for packed lunches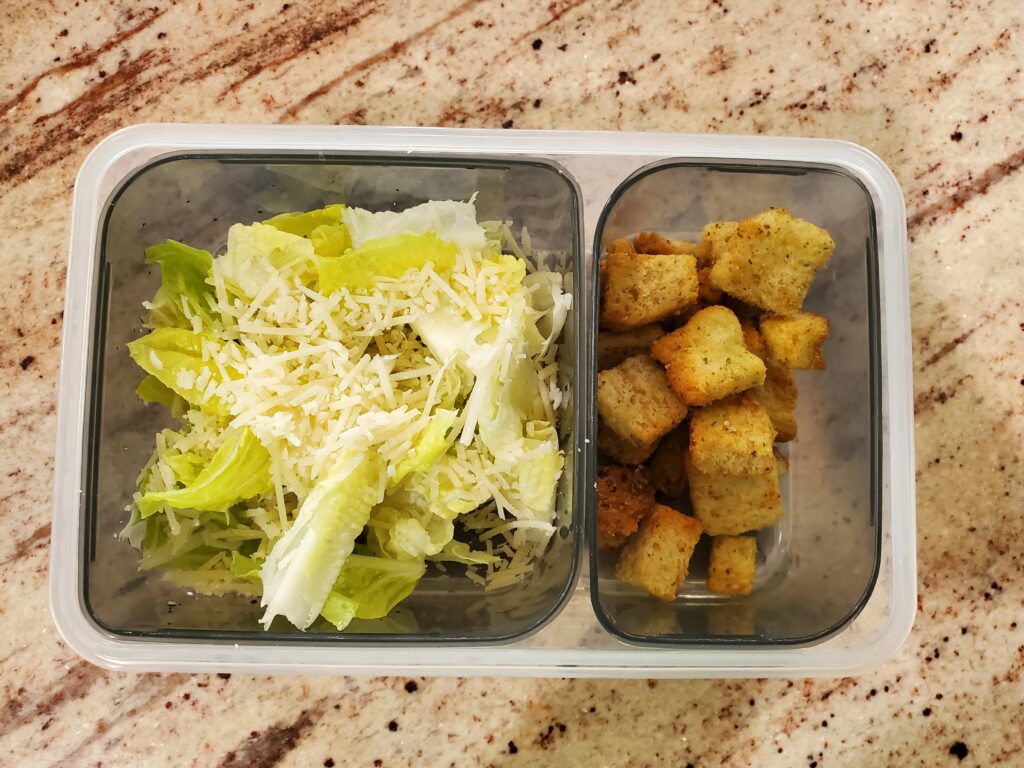 Caesar salad is very simple. Traditionally romaine lettuce is the base, although you could also add some baby spinach or other greens for variety. Croutons, Parmesan cheese and a good Caesar dressing is really all you need. I prefer to buy my Caesar dressing in the refrigerated section of the produce department. My favorite is Marzetti Supreme Caesar dressing. If you would prefer a heartier option add some sliced grilled chicken or fresh bacon bits. This salad is an excellent choice when you have some left over grilled chicken. I used a 2 compartment container, but a 3 compartment container would be ideal for packing because you could keep the dressing and croutons separated until you are read to eat lunch.
#2 Pasta Salads for packed lunches
Pasta salad is another family favorite. I usually use Organic Garofalo Tricolor Rotini as the base, but any leftover pasta will do. Just add your favorite veggies. I like to make this one after family pizza night. I add the unused pizza toppings like chopped red onion, black olives, salami strips and mini pepperonis. Other excellent options to mix in are sliced cucumber, mini baby mozzarella balls, and cherry tomatoes. I dress my pasta salad with Kraft Zesty Italian and McCormick Pinch Perfect Salad Supreme. Once again I used a 2 compartment container for this salad. It works great this way because I can add some fruit on the side. A single compartment container would work well for this salad. I love Fit and fresh containers because the lids stay on well and the have an optional freezer pack you can use with them.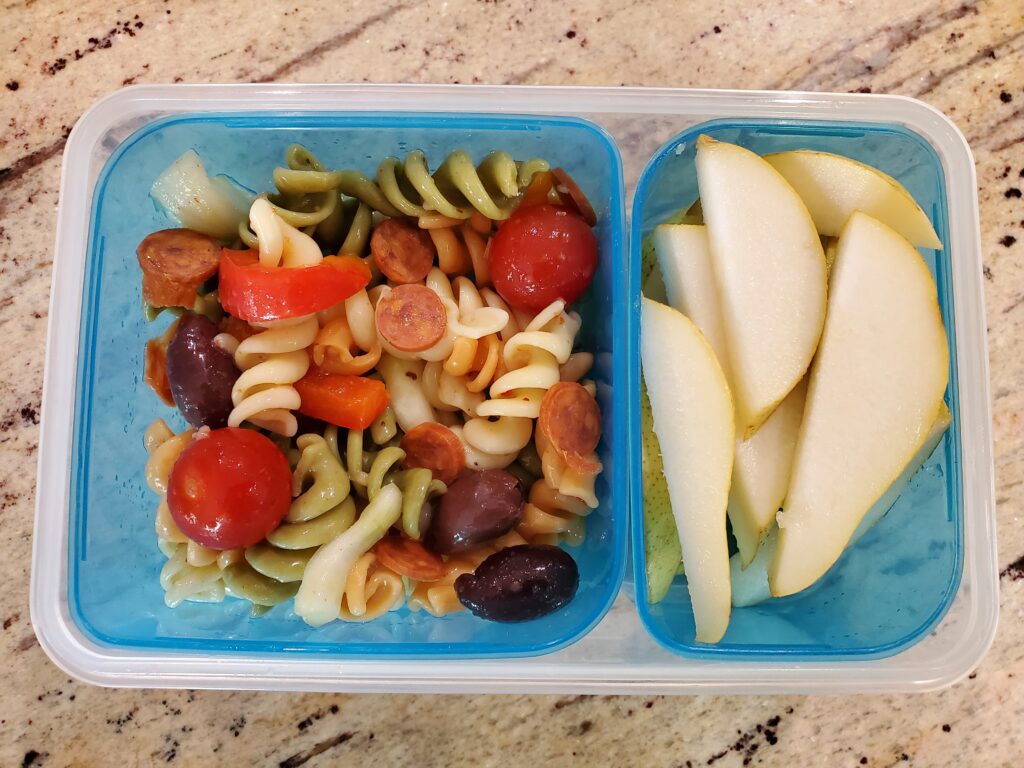 #3 Taco Salads for packed lunch
Taco salad is the perfect salad to pack for lunch on Wednesday, following Taco Tuesday. I usually just pack up all of the leftover toppings I sliced for Tacos. Chopped lettuce, tomatoes, and onions. Top with cheese and some leftover taco meat. I mix up sour cream with salsa for the dressing and put it on the side to mix in when ready to eat. I used a two compartment container to pack this one, but once again a three compartment container would be better because you could add a side of tortilla chips! Fit & Fresh makes a great 3 compartment container that would work well for this too.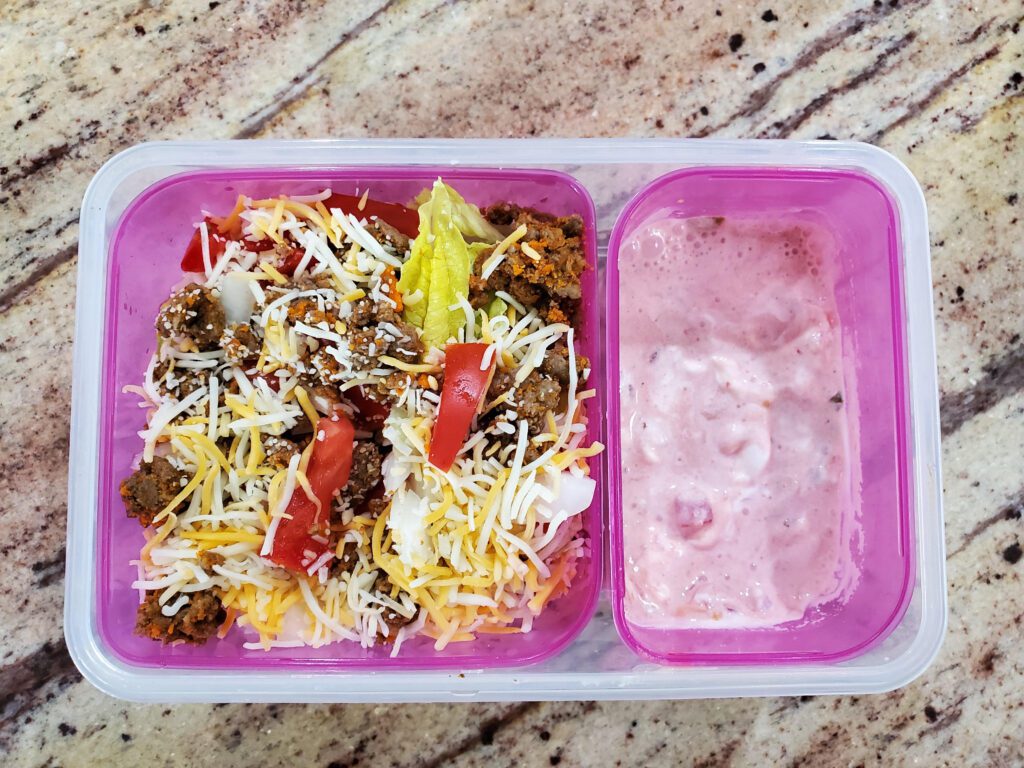 #4 Super-food Salads for packed lunch
I call this super food salad because it is dressed with poppy seed dressing which works well with so many super healthy foods. I used mixed greens with romaine, dried cranberries and pumpkin seeds on my salad. This salad also loves all types of nuts, seeds, berries, cabbage, broccoli, spinach, and Swiss cheese. Get creative with it. I buy my poppy seed dressing in the refrigerated section of produce. Marzetti has a great one. This salad works well, packed for lunch in a 2 compartment container but would also work well in a three compartment container if you want to keep your nuts or seeds crunchier you could separate them when packing and mix them in when ready to eat lunch.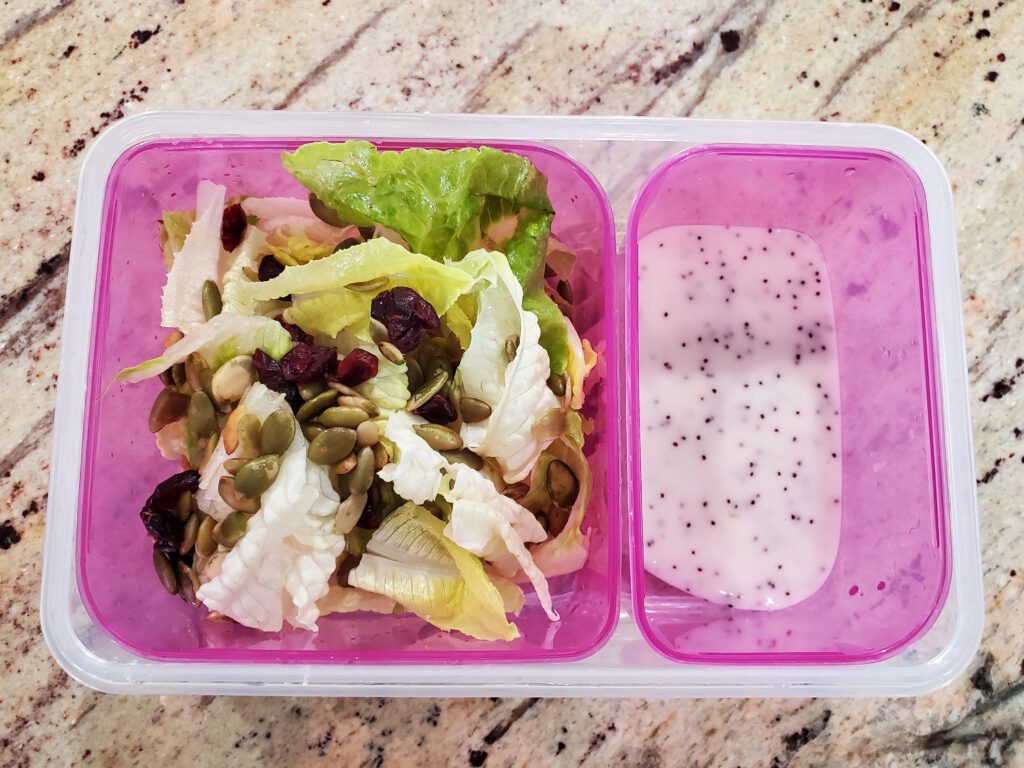 As an Amazon associate I earn from qualifying purchases.