Customers are flooding into local pharmacies in search of immune boosting supplements. Many of these immune boosting ingredients can easily be included in your diet. I'm a pharmacist and I would love to share my recipe for Immune boosting Granola.
Disclaimer: The statements made regarding this recipe have not been evaluated by the Food and Drug Administration. The efficacy of this recipe has not been confirmed by FDA-approved research. This recipe is not intended to diagnose, treat, cure or prevent any disease.
Immune Boosting Nutrients
In order to make an immune boosting recipe, one first needs to know which nutrients are known to boost immunity.
Vitamin C- There is research to support Vitamin C supplementation in reducing the length and severity of respiratory infections.1 Vitamin C plays an important role in immune response.
Zinc – Plenty of research is available supporting zinc supplementation in reducing the length and severity of infections.1 Zinc is an important player in immune response.
Vitamin D – There is some evidence that vitamin D could reduce the risk of Influenza and COVID-19 infections and death.2
Vitamin B6- A deficiency in Vitamin B6 reduces your ability to make antibodies to fight off infection. Vitamin B6 could help strengthen immunity.3
Vitamin E- Immune response is enhanced by Vitamin E. It can provide protection against infections.4
Selenium- The immune system relies on adequate dietary selenium.5
Immune Boosting Ingredients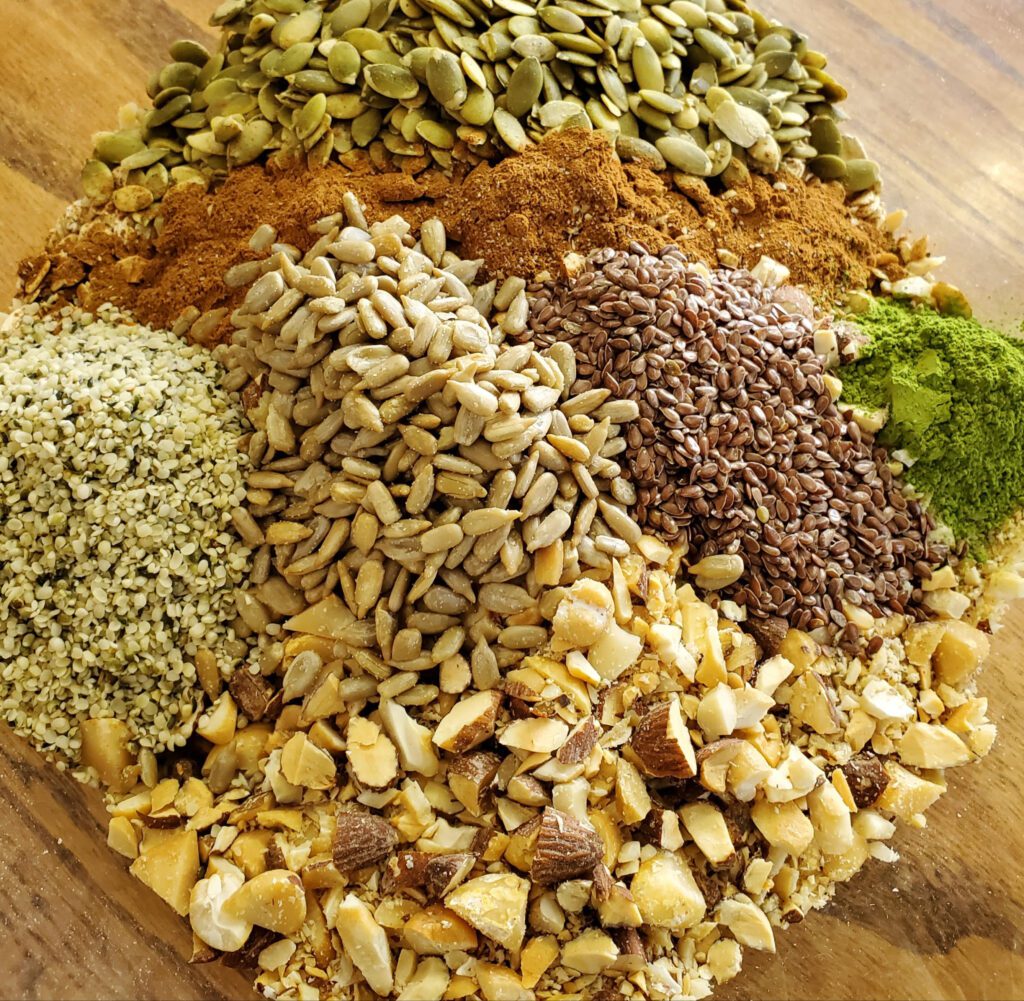 I selected my granola ingredients to include as many immune boosting vitamins and minerals as possible. Here is a list of my ingredients and a quick explanation for why they were included in my recipe.
Elderberry syrup: Elderberry syrup is used to enhance immunity. Elderberries are high in flavonoids, Vitamin A and Vitamin C. It may help reduce symptoms of viral infections by stimulating immune response.6
Matcha: A natural superfood, matcha is green tea powder. It is made by grinding green tea leaves into a fine powder. Regular consumption of green tea could decrease influenza infection rates and cold symptoms.7
Hemp hearts, pumpkin seeds and Flax Seeds: I included all of these mostly for the zinc and omega 3 and 6. These polyunsaturated fats have been extensively studied for their role in immune health.8
Nuts: These serve as a good source of selenium and zinc. I chose Brazil nuts because they have the highest amount of selenium. Cashews are high in zinc.
Sunflower seeds: These seeds also have some healthy fats, but I chose them mostly because they are an excellent source of vitamin E. They are also a good source of selenium and vitamin B6.
Ginger: Has been found to help reduce the severity of respiratory infections.9
Blueberries: Another natural superfood. Blueberries are a good source of Vitamin C. They are one of the best sources of antioxidants, mostly flavonoids.
Immune Boosting Granola Recipe
Ingredients:
4 Cups Oats
1 Cup mixed nuts (cashews, almonds, and Brazil nuts)
1/4 Cup sunflower seeds
1 Cup shelled pumpkin seeds
1/4 Cup hemp hearts – find it here
1 Tablespoon matcha powder – find it here
2 Tablespoons cinnamon
1 teaspoon ground ginger
1/2 teaspoon Himalayan pink salt
2 Tablespoons flax seed
1/3 Cup dried cranberries
1/2 Cup shredded dry coconut
1/3 Cup dried blueberries
1/2 Cup honey
1/3 Cup Peanut butter
2 Tablespoons Elderberry Syrup – Find it here
1/3 Cup coconut oil
Directions:
Preheat oven to 350 degrees F. Mix together the oats, nuts, sunflower seeds, pumpkin seeds, hemp hearts, matcha, cinnamon, ginger, salt, and flax seed. In a separate bowl mix the peanut butter, coconut oil, honey, elderberry syrup. Pour the wet ingredients over the dry ingredients and mix until evenly coated.
Cover a Jelly Roll pan with parchment paper. Spread the granola over the paper. Bake for 15 min. Remove from the oven and mix in the dried coconut. Bake for 10 more minutes. Remove and mix again. If the coconut is not completely toasted, bake for 2 more minutes. The granola is ready when most of the coconut is toasted but not burnt. Remove from the oven and stir in the dried fruit while the granola is still warm. Allow the granola to cool to room temperature. Store in an air tight container at room temperature for up to 2 weeks.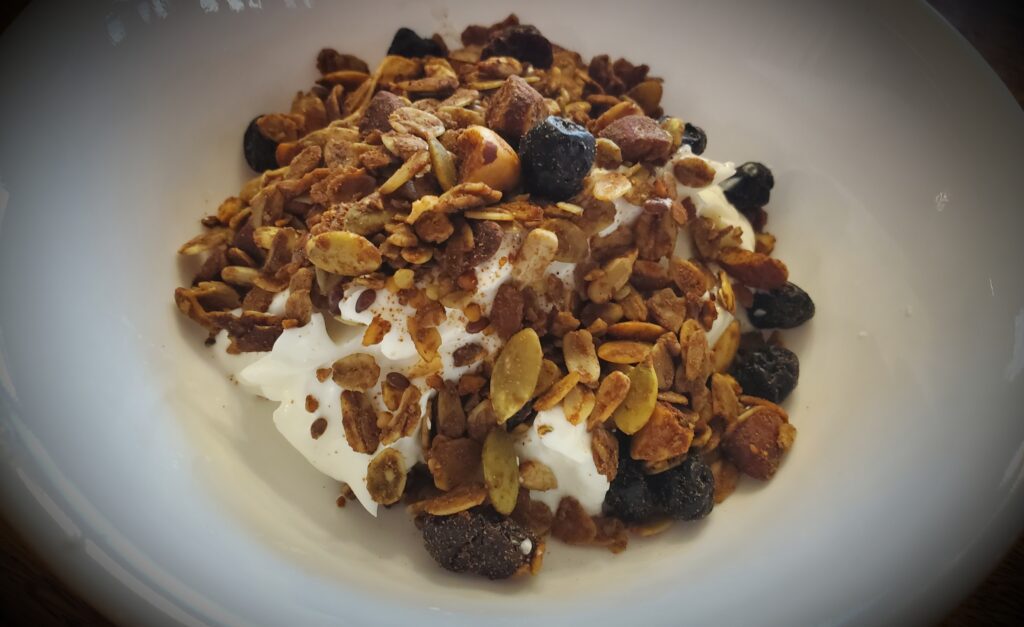 References:
As an Amazon Associate, I earn from qualified purchases.